ADA Compliance & Web Design
By: August Erickson | Published on Aug 25, 2020
Web design can be like the wild west in some elements. The internet evolves so quickly that it's hard for the government (at both the federal and state level) to keep up. This leads to countless legal grey areas in the world of web design.
One of these legal grey areas is ADA Compliance.
History:
The ADA (Americans with Disabilities Act) was signed under George H. W. Bush in 1990 (see picture of singing below). This predates the first website being published on the World Wide Web, therefore, web design / websites are NOT mentioned within the Act itself.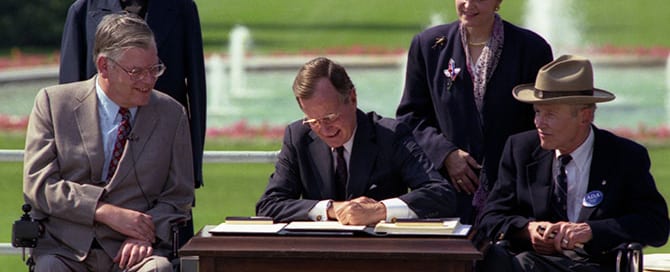 However, in recent years, several court systems have begun interpreting Title III of the ADA to include websites, setting a precedent.
There are currently no set guidelines for ADA Compliance when it comes to web design, Congress was supposed to present a bill in 2019, however that has been pushed back to 2021 (based on news reports).
Several court systems have used the Web Content Accessibility Guidelines (WCAG) as guidelines for web Compliance. The ADA also mentions the WCAG once (see screenshot below ) on their official website. Again, the WCAG is a set of guidelines NOT law.

The WCAG was created by W3C, which is an international community, not tied to any government entity.
Exploitation:
Unfortunately, some individuals are exploiting the lack of formal (government created) ADA Compliance guidelines for web design and creating lawsuits against companies in the hope of creating so much fear they can settle outside of court for thousands (sometimes even tens of thousands) of dollars.
While there is no way to completely eliminate the risk of exploitation, there are some steps you can take to minimize the risk (and also improve the web experience for those who do have legitimate disabilities).
Eventually, Congress will introduce formal ADA Compliance guidelines for web design, which will make everything much more black and white.
My Thoughts:
Unfortunately, while we still operate in this legal grey area, the primary objective of ADA Compliance when it comes to web design is to avoid exploitation – rather than to provide a better web experience to those who are disabled.

It's a shitty situation for all parties involved (web developers, business owners, and individuals who are disabled) that won't be resolved until Congress steps up and introduces formal ADA Compliance guidelines for web design.